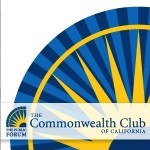 The Commonwealth Club of California is the nation's oldest and largest public affairs forum, bringing together its more than 18,000 members for over 400 annual events on topics ranging across politics, culture, society and the economy.
Founded in 1903, The Commonwealth Club has played host to a diverse and distinctive array of speakers, from Teddy Roosevelt in 1911 to Erin Brockovich in 2001. Along the way, Martin Luther King, Ronald Reagan, Bill Clinton and Bill Gates have all given landmark speeches at The Club.
Listen to the Commonwealth Club on 1590 KLIV Thursdays at 7 p.m. and Sundays at 6 p.m.
| | |
| --- | --- |
|  Date | Guest |
| February | 2015 |
| 19 | Silicon Valley Reads (download podcast) |
| 12 | Bruce Bochy and Larry Baer (download podcast) |
| 5 | John Cleese (download podcast) |
| January | 2015 |
| 29 | William Bostic (download podcast) |
| 22 | Wesley Clark (download podcast) |
| 15 | John Lanchester (download podcast) |
| 8 | Francis Fukuyama (download podcast) |
| 1 | Betsy Andrews (download podcast) |
| December | 2014 |
| 25 | Eric Metaxas (download podcast) |
| 18 | Rebecca Moore (download podcast) |
| 11 | Undocumented and Uninsured (download podcast) |
| 4 | Robert Baer (download podcast) |
| November | 2014 |
| 27 | Roundtable on Common Core (download podcast) |
| 20 | Mark Bittman (download podcast) |
| 13 | Innovative Women Roundtable (download podcast) |
| 6 | Steven Johnson (download podcast) |
| October | 2014 |
| 30 | Rita Moreno (download podcast) |
| 23 | Joshua Wolf Shenk (download podcast) |
| 16 | Stephen Pinker (download podcast) |
| 9 | Eric Schmidt (download podcast) |
| 2 | Congressman Tim Murphy (download podcast) |
| September | 2014 |
| 25 | Benedict Carey (download podcast) |
| 18 | Kat Taylor & Tom Steyer (download podcast) |
| 4 | Tony Wheeler (download podcast) |
| August | 2014 |
| 21 | Michael Malone (download podcast) |
| 14 | Nina Teicholz (download podcast) |
| 7 | Richard Chamberlin (download podcast) |
| 1 | Lawrence Tribe (download podcast) |
| July | 2014 |
| 24 | Robert Bryce (download podcast) |
| 17 | Ken Turan (download podcast) |
| 10 | Luis Guillermo Solis (download podcast) |
| 3 | Transportation Roundtable (download podcast) |
| June | 2014 |
| 26 | Deborah Rodriguez (download podcast) |
| 19 | David Ewing Duncan (download podcast) |
| 12 | Jose Cusia, Jr. (download podcast) |
| 5 | Ruth Reichl (download podcast) |
| May | 2014 |
| 29 | Roundtable on Midterm Elections (download podcast) |
| 22 | Sandra Tsing Loh (download podcast) |
| 15 | Tim Draper (download podcast) |
| 8 | Olafur Ragnar Grimsson (download podcast) |
| 1 | Jared Diamond (download podcast) |
| April | 2014 |
| 24 | Dan Richard (download podcast) |
| 17 | Unintended Consequences of Information Age (download podcast) |
| 10 | Shane Bauer, Sarah Shourd, & Josh Fattal (download podcast) |
| 3 | P.J. O'Rourke (download podcast) |
| March | 2014 |
| 27 | Panel Discussion on California Drought (download podcast) |
| 20 | Nicholas Dirks (download podcast) |
| 13 | Dr. Stephen Palumbi (download podcast) |
| 6 | Dr. Henry Nau (download podcast) |
| February | 2014 |
| 27 | Drew Engle (download podcast) |
| 13 | Second Machine Age (download podcast) |
| 6 | Rebecca Eaton (download podcast) |
| January | |
| 30 | Silicon Valley Reads (download podcast) |
| 16 | Eric Schlosser & Joseph Cirincione (download podcast) |
| 9 | Thom Hartman (download podcast) |
| 2 | Randi Zuckerberg (download podcast) |
| December | 2013 |
| 26 | Rita Moreno (download podcast) |
| 19 | Ari Shavit (download podcast) |
| 12 | Pauline Frommer (download podcast) |
| 5 | Peter Lee (download podcast) |
| November | |
| 28 | Simon Winchester (download podcast) |
| 21 | Rorke Denver (download podcast) |
| 14 | Kenneth Feinberg (download podcast) |
| 7 | Janet Napolitano (download podcast) |
| October | |
| 31 | Marian Nestle (download podcast) |
| 24 | George R. Lucas (download podcast) |
| 17 | Scott Berg (downoad podcast) |
| 10 | Dan Ariely (download podcast) |
| 3 | Richard Wolff (download podcast) |
| September | |
| 26 | Joshua Kendall (download podcast) |
| 19 | California Food Revolution (download podcast) |
| 12 | Roundtable on doctor shortage (download podcast) |
| 5 | YCombinator (download podcast) |
| August | |
| 29 | Adam Johnson (download podcast) |
| 22 | Joseph Ellis (download podcast) |
| 15 | Mark Tercek (download podcast) |
| 8 | Orville Shell and John Delury (download podcast) |
| 1 | Dr. Dale Schenk (download podcast) |
| July | |
| 25 | Presidential Debate Panel (download podcast) |
| 18 | Brian Jenkins (download podcast) |
| 11 | George Packer (download podcast) |
| 4 | Mineta Transportation Institute Panel (download podcast) |
| June | |
| 27 | Latina Business Panel (download podcast) |
| 20 | David Kennedy (download podcast) |
| 13 | Big Data Panel (download podcast) |
| 6 | Vali Nasr (download podcast) |
| May | |
| 30 | Jaron Lanier (download podcast) |
| 23 | Daniel Dennett (download podcast) |
| 16 | Po Bronson (download podcast) |
| 9 | Mark Mazzetti (download podcast) |
| 2 | Mickey Edwards (download podcast) |
| April | |
| 25 | Sebastian Thrun (download podcast) |
| 18 | Medical Ethics Panel (download podcast) |
| 11 | Dan Richard (download podcast) |
| 4 | Carly Fiorina (download podcast) |
| March | |
| 28 | Empowering Women Leaders (download podcast) |
| 21 | Karen Elliot House (download podcast) |
| 14 | President Jimmy Carter (download podcast) |
| 7 | Madeline Albright (download podcast) |
| February | |
| 28 | Roundtable on Iran (download podcast) |
| 21 | Jeffrey Frank (download podcast) |
| 14 | Rob Reiner (download podcast) |
| 7 | Silicon Valley Reads (download podcast) |
| January | |
| 31 | Gun Violence Panel (download podcast) |
| 24 | Dr. Nora Volkow (download podcast) |
| 17 | Leland Faust (download podcast) |
| 10 | Dr. Donald Berwick (download podcast) |
| 3 | Tim Ferriss (download podcast) |
| December | 2012 |
| 27 | Charles Phan (download podcast) |
| 20 | Congregation Power (download podcast) |
| 13 | SLAC Roundtable (download podcast) |
| 6 | Chris Anderson (download podcast) |
| November | |
| 29 | Eric Asimov (download podcast) |
| 22 | Debra Strobin & Eli Wachs (download podcast) |
| 15 | Bizumers (download podcast) |
| 8 | Theodore Olson (download podcast) |
| 1 | Media Panel (download podcast) |
| October | |
| 25 | Carol Keehan (download podcast) |
| 18 | Ralph Nader (download podcast) |
| 11 | Election Roundtable (download podcast) |
| 4 | Hendrick Smith (download podcast) |
| September | |
| 27 | Economy Roundtable (download podcast) |
| 20 | Paul Saffo (download podcast) |
| 13 | Steve Blank (download podcast) |
| 6 | Teen Pregnancy Roundtable (download podcast) |
| August | |
| 30 | John Garamendi (download podcast) |
| 23 | Green Economy Roundtable (download podcast) |
| 16 | E.J. Dionne Jr. (download podcast) |
| 9 | George Lakoff (download podcast) |
| 2 | Frank DeFord (download podcast) |
| July | |
| 26 | Keith Devlin (download podcast) |
| 19 | Funding Infrastructure Roundtable (download podcast) |
| 12 | Martha Kanter (download podcast) |
| 5 | Chesley Sullenberger (download podcast) |
| June | |
| 28 | David Walker (download podcast) |
| 21 | Larry Gerston (download podcast) |
| 14 | Charles Ferguson (download podcast) |
| 7 | Max Marty (download podcast) |
| May | |
| 31 | Dr. Leonard Mlodin (download podcast) |
| 24 | High Speed Rail Roundtable (download podcast) |
| 17 | Tony Derose (download podcast) |
| 10 | David Callahan (download podcast) |
| 3 | Mike Pereira (download podcast) |
| April | |
| 26 | Robert Shiller (download podcast) |
| 19 | Paranoid Politics (download podcast) |
| 12 | Dr. Ira Byock (download podcast) |
| 5 | Youth Power Roundtable (download podcast) |
| March | |
| 29 | Jodi Kantor (download podcast) |
| 22 | California Politics Roundtable (download podcast) |
| 15 | Peter Diamandis (download podcast) |
| 8 | Dr. David Agus (download podcast) |
| 1 | Roundtable discussion on Muslim-Americans (download podcast) |
| February | |
| 23 | Dr. Sebastian Seung (download podcast) |
| 16 | Amy Chua (download podcast) |
| 9 | Tani Cantil-Sakauye (download podcast) |
| 2 | Silicon Valley Reads (download podcast) |
| January | |
| 26 | Mark Bowden (download podcast) |
| 19 | Muhtar Kent (download podcast) |
| 12 | Katrina vanden Heuvel (download podcast) |
| 5 | Social Media Roundtable (download podcast) |
The Commonwealth Club of California: Silicon Valley
Sobrato Center for Nonprofits
578 Valley Way, Milpitas, CA 95035
Tel (408) 280-5530 Fax (408) 945-9289
www.commonwealthclub.org